04th July 2011
Yusuf Sultan was approached by a Bollywood production company to train English actress Gemma Atkinson in Hindi dialogue. Gemma plays the part of 'Ria Fletcher' in the upcoming film 'Fever'.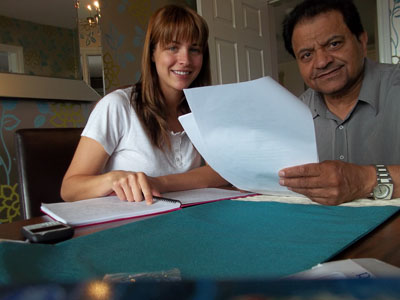 Read Through Session
Famous English actress, TV personality and star of 'I'm a Celebrity Get Me Out Of Here' Gemma Atkinson stars in 'Fever', a new Bollywood production. Gemma was required to learn Hindi for the role and was coached by British film, TV and stage actor Yusuf Sultan.
Yusuf has worked on the Bollywood movie 'The King Of Bollywood' with Om Puri and Sophie Dhal, and is familiar with the way in which the Indian film industry works.
"I truly enjoyed training Gemma in speaking Hindi dialogue", said Yusuf. "It was a real challenge for us both, because she didnít know any Hindi at all and I had to train her in six days." Yusuf learned Hindi as a child in India. He further improved his Hindi, Urdu and Gujarati whilst working for British Asian Theatre in London.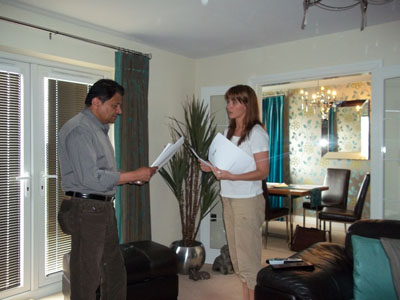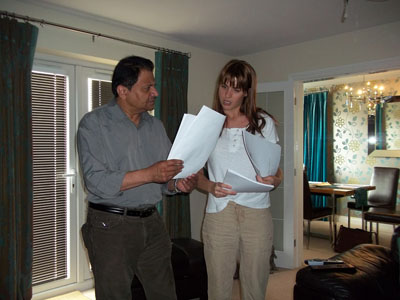 Getting Into Character & Rehearsal
"The Bollywood script was written in phonetic Hindi" said Yusuf, "and I had to translate it into English for Gemma to understand the plot. She was extremely quick in grasping the concept and ideas in Hindi."
"After five days of training she met the Bollywood crew in Switzerland, where the movie is being filmed on a location. Following that I received praise from the producer and director who said her Hindi dialogue was excellent."
We also rehearsed her part for the film and on the sixth days she just rolled into her character in Hindi. It was truly a wonderful experience".
"I found her to be not only a nice person to work with, but a fine actress too and I will definitely cherish such an experience. She has a great future in Bollywood, Hollywood and the U.K. I wish her well".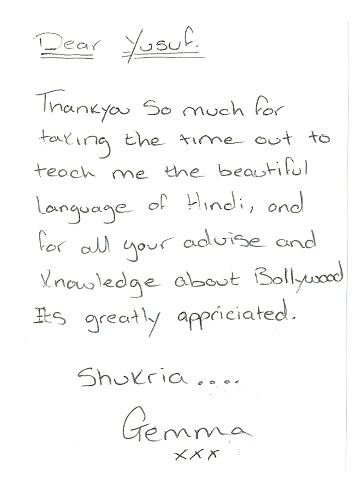 Fever is currently in production and is due for release around November 2011.
Articles and Photos (c) Copyright 2011, Yusuf Sultan
(www.yusufsultan.co.uk)
© Copyright 2005, Yusuf Sultan
Site design by: Dark Raven Digital